Save Money and Time, Share Your Dryer Socket With Your EV Charger using Splitvolt's Splitter Switch to Fast-charge an EV at Home!
A common barrier to electric vehicle adoption is the cost and complexity of adding L2 fast EV home charging. A normal 120V plug charges at just 3 miles per hour, which is just too slow for today's long-range, large capacity EV batteries. To fast-charge an EV at home, a 240V socket is needed, but adding a new circuit can take weeks, require permits and is expensive.
Many homeowners want to avoid the weeks of delay and high cost of hiring an electrician to add another socket and circuit for EV charging—these can vary from $800 to $1,500 or more, depending on the situation.
That's where the Splitvolt Splitter Switch comes in. It allows you to use your existing 240V clothes dryer socket to automatically and safely share it between your dryer and EV charger.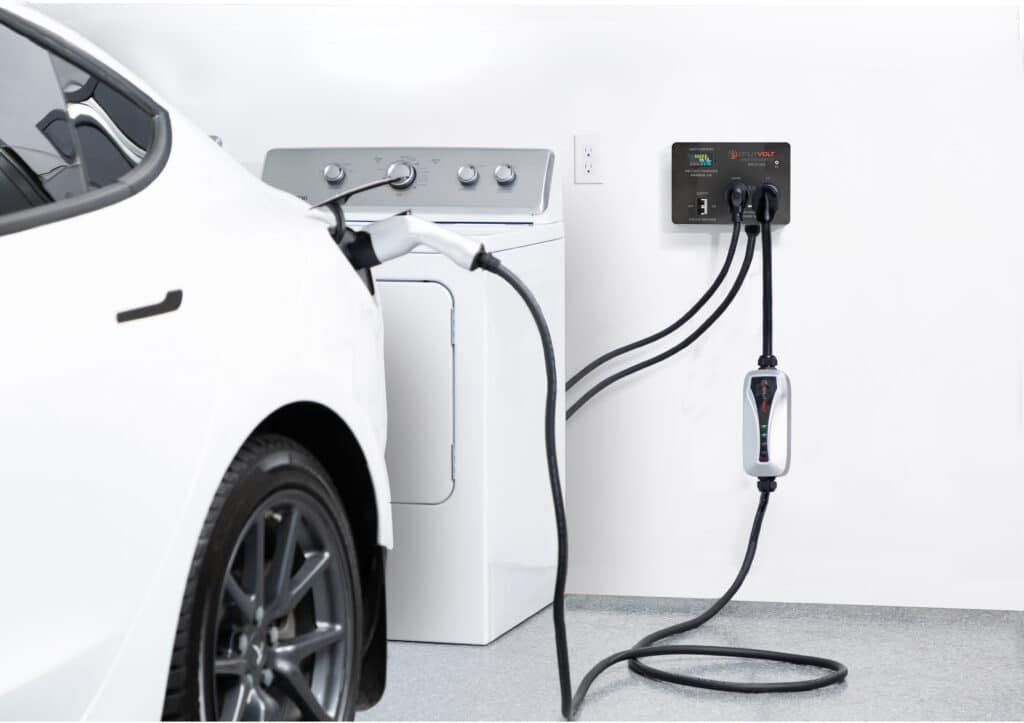 Switch power from your dryer to your EV with the Splitvolt Splitter Switch to fast-charge an EV at home
Splitvolt has created a safe and inexpensive solution. The Splitvolt Splitter Switch provides inexpensive, plug-n-play access to 240V power by automatically and safely sharing your existing 30amp dryer socket with your dryer and EV charger. Just plug it in and you can fast-charge an EV at home in minutes!
Safety is critical when dealing with 240V power
Splitvolt has a highly experienced team, leveraging best practices with a USA-based design and high quality parts. Only trust a company with thousands of products in the field working safely, effectively and highly rated.
Key elements for a true Splitter SwitchTM
Automatic full power switching
Real-time power display status
Internal 25A safety circuit breaker
Plug-and-play ease of use
NEC, NEMA and EV standards compatibility
Without these key capabilities, you do not have the safety, efficiency and effectiveness of a true "Splitter Switch" solution.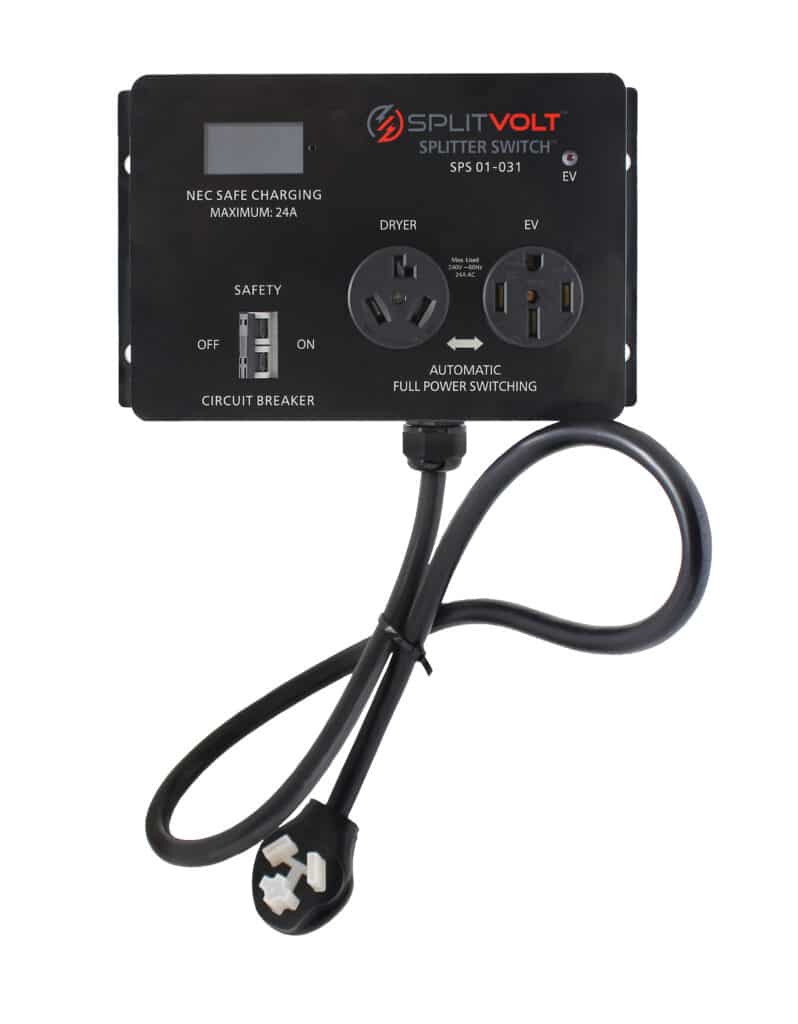 Fast-charge an EV at home, and avoid cheap knock-offs
Inevitably compelling products will be copied. So take care not to be tempted by cheap imitations from overseas using low quality parts, mismatched circuit breakers, and poor internal design practices. If in doubt, its always best to go with the innovator and market leader, with thousands of real-world customers, and hundreds of "verified customer" reviews with a high 4.5/5.0 rating.
Otherwise, you could unknowingly be jeopardizing the safety of your household wiring, main breaker panel, electric vehicle and ultimately the safety of your family and home.
Splitvolt Splitter Switch available in 4 configurations
To allow for different NEMA plug types that you may have, the Splitvolt Splitter Switch is available in four different configurations:
SPS NEMA 10-30 Switch / 24 Amp
SPS NEMA 14-30 Switch / 24 Amp
SPS NEMA 10-30/14-50 / 24 Amp
SPS NEMA 14-30/14-50 / 24 Amp
To determine the best one for your EV charging, contact the responsive and friendly [email protected] team today!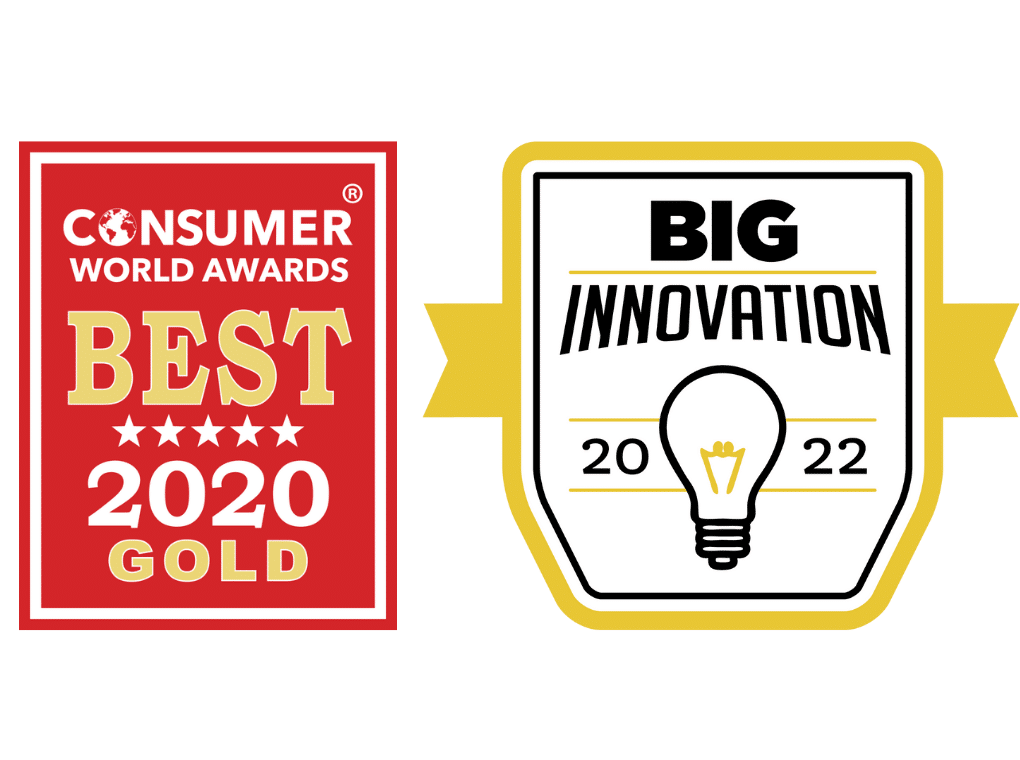 Splitvolt a 2020 Consumer World Award Gold winner and 2022 Big Innovation Award winner
Splitvolt has been named a 2020 Consumer World Award Gold Winner in Consumer Electronics and the 2022 Big Innovation Award Winner. Consumer World Awards is a premier awards program that recognizes consumer products, companies, and people from all over the world.
Splitvolt also offers inexpensive, fast, and portable EV chargers
Fast EV home charging solutions that are safe, affordable, simple and which empower electric vehicle adoption are the foundation of Splitvolt's business.
Splitvolt portable EV chargers have the fastest NEC-safe charging rates for standard circuits, at the lowest price and greatest value on the market today.
For added convenience and flexibility, Splitvolt also offers a family of 100% Copper, 240v extension cables and adapters.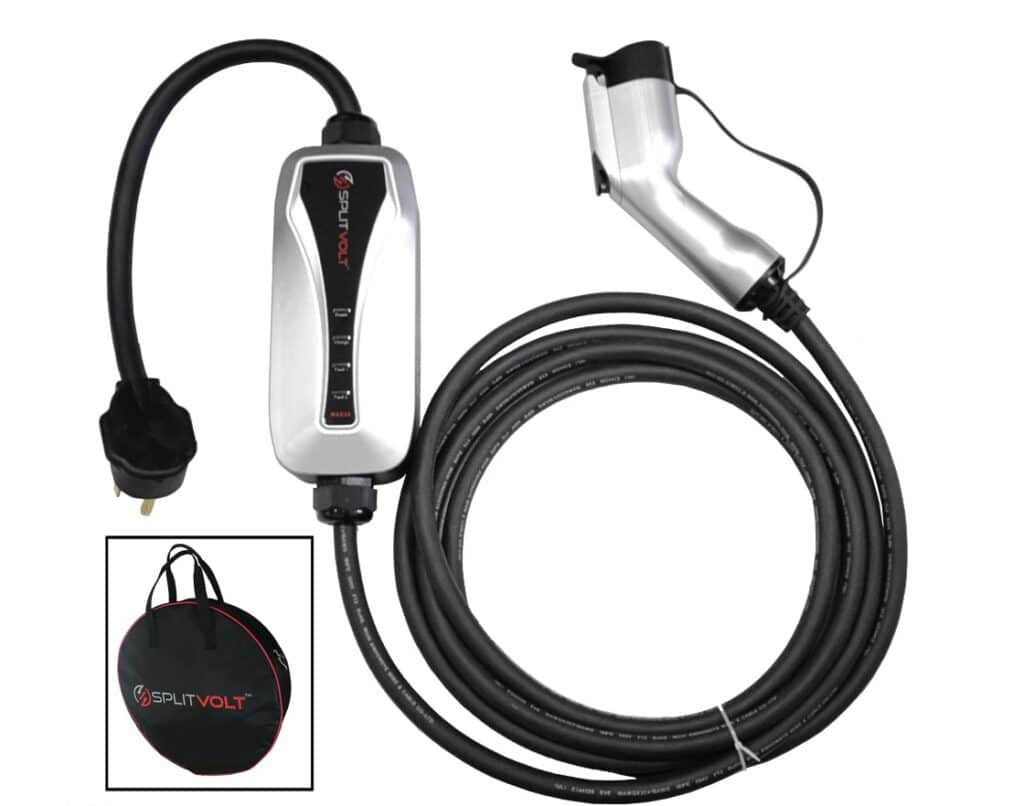 Splitvolt Product Families
SPLITTER SWITCHTM
SPS NEMA 10-30 Switch / 24 Amp
SPS NEMA 14-30 Switch / 24 Amp
SPS NEMA 10-30/14-50 / 24 Amp
SPS NEMA 14-30/14-50 / 24 Amp
PORTABLE EV CHARGERS
CGB NEMA 10-30 / 24 Amp
CGB NEMA 14-30 / 24 Amp
CGB NEMA 14-50 / 40 Amp
240V EXTENSION CABLES
EGB NEMA 10-30 / 16ft or 26ft
EGB NEMA 14-30 / 16ft or 26ft
EGB NEMA 14-50 / 16ft or 26ft
The Splitvolt mission
At Splitvolt, the team's mission is to deliver products that empower the adoption of electric vehicles by making the experience of owning and charging an electric vehicle a simple and affordable one.
Daniel Liddle, Splitvolt Founder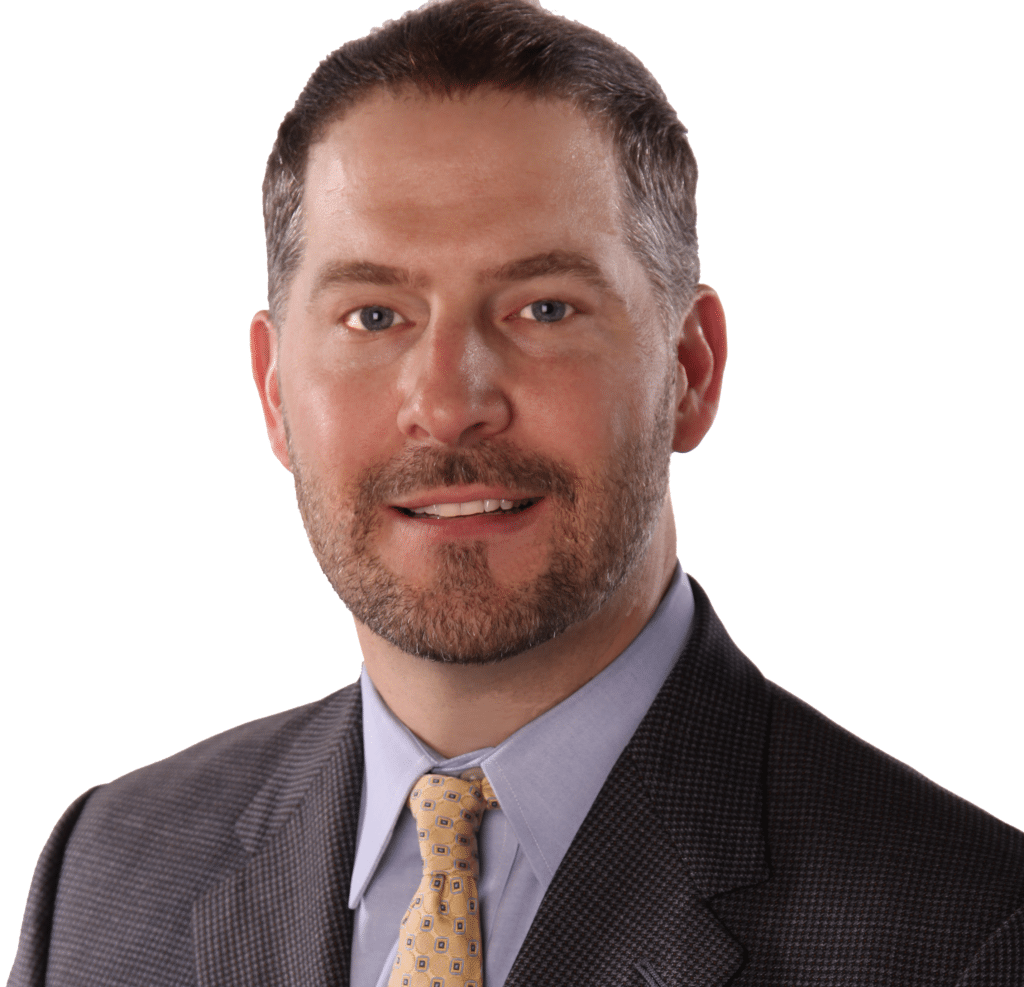 Dan is a true Silicon Valley veteran, with more than thirty years experience navigating high-growth, rapidly evolving markets with some of the key technology leaders in the IT space. He has over two decades building venture-backed start-ups from the ground up, followed by almost another decade with executive marketing and sales responsibility at a U.S.-based Fortune 500 global technology contract manufacturer. After having owned three consecutive electric and hybrid cars over much of the past decade, coming up with the idea to form Splitvolt was serendipitous.
Dan has assembled a top-caliber team of highly experienced functional leaders with backgrounds ranging from technology development, operations, finance, accounting, marketing, channels and digital marketing as well as established partnerships with prestigious Silicon Valley technology banks and legal counsel.
Contact the friendly Splitvolt team today!
What are the advantages to home charging? It's charging on your schedule. You can charge while you sleep or do other activities so your car is ready when you are. To fast-charge an EV at home is now a reality with Splitvolt.
Visit www.Splitvolt.com/shop to see products, videos, configuration information and associated technical materials.
Visit www.Splitvolt.com or email [email protected] for company and product information as well as to register your email address for news updates, and links to social media platforms including Facebook, Instagram, Twitter, and YouTube.
It is worth noting that today Splitvolt utilizes a highly responsive technical support team that is contacted exclusively via email. The company provides return phone calls, but the first step is emailing the team at [email protected].
EVinfo.net is an affliliate of Splitvolt and will receive compensation for each sale generated.