EV Charging Infrastructure – A Reality Check For U.S. Deployment
"We are in a building boom of demand for charging infrastructure (EVs) without the same priority and investment going into both the electrical grid and the associated charging infrastructure." – EVX Cross Intelligence SurveyTM Respondent
In 2022, working with the city of Detroit, The EV Exchange (EVX) in conjunction with its advisory board set out to benchmark the state of the U.S. EV industry through the eyes of three of its major stakeholders – the automotive OEMs, the electric energy providers, and the government regulators and policy makers. EVX Research and Advisory Services executed this effort by developing a survey to assess the infrastructure, manufacturing capabilities, and policies required for the successful transition to domestic electrification of our transport sector.. The 56-statement survey also included numerous areas for open ended comment, which initiated over 1,000 comments that added useful context and value to the responses. Respondents were asked for their level of agreement to those survey statements.
EVX examined six Sitarian Corporation Core Research Areas of the EV ecosystem – Charging Infrastructure, Key Technologies, Costs and Total Cost of Ownership (TCO), Cyber Security, Human Resources, and Supply Chain.
This initial article summarizes select statements, data, and comments of that effort in respect to Charging Infrastructure. The full Survey Results Survey (SRS) is available upon email request from [email protected].
Methodology
EVX used a proprietary three phase Sitarian Corporation methodology to frame the benchmarking project. These phases were:
1. Convened an Advisory board to identify the key issues to be addressed
2. Developed a survey instrument to execute and assess the issues
3. Held a Meeting of the Minds Think TankTM to review the findings and make recommendations
The complete RADAR (Research And Data Analysis Report), including the findings, recommendations, and next steps is available for purchase. Contact [email protected] for details.
Demographics
EVX Research identified key demographics and individuals in each of our targeted communities as respondents to the survey. These individuals comprised our three-community forum as key opinion leaders in the EV ecosystem and were a majority of the delegates to our Mastermind sessions at our EVX Exchange Think Tank that took place in Detroit on June 22, 2022.
The communities consisted of industry professionals from the EV manufacturers, energy providers, and policymakers and produced a total of 120 final respondents.
Our intent is that this community will continue to grow and provide continuous input and feedback through our continuing data collection and research programs.

The EVX Research plan aimed to ensure that all three communities involved in the research had a balanced representation and participation in both the survey and think tank components. This enabled smaller, focused discussions, as well as larger combined sessions, each considering the perspectives of all three groups regarding the data presented. The goal was to foster a collaborative and inclusive approach to the research, where all perspectives were heard and considered. Overall, this approach helped to ensure that the research findings were objective and reflected the viewpoints and needs of all three communities involved.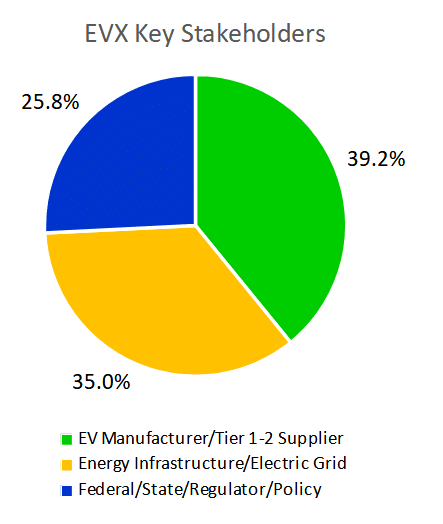 Overall Summary
Charging Infrastructure: The convenient and equitable power supply, storage, distribution network, stations, energy storage, communications, add-on services, and operations that enable EV adoption, growth, and diversification.
Statements about base level readiness to assess if charging infrastructure meets the current demand of EVs in public, private, rural, and commercial environments. Only 27% of respondents agreed Federal Policy is in place and sufficient, while implementation and the existence of charging stations have a significant disagreement of 84%.
General: There is sufficient charging infrastructure currently in place to meet demand for;
Federal Policy: There is a sufficient and comprehensive Federal policy to advance EV charging infrastructure;
State Policy: There is a sufficient and comprehensive State policy to advance EV charging infrastructure.
Charging Infrastructure Survey Data Details
There was a total of 14 charging infrastructure statements in the survey. We present 4 of these statements in this article to provide a few insights into our research. We encourage you to reach out to EVX for more in-depth discussion at [email protected].
Survey Statement
There is sufficient charging infrastructure currently in place to meet demand for:

Select Survey Comments
1. Across the board, infrastructure is lagging demand for electrified transport. However, we will likely see that utility capacity at each of these segments is the real critical path. EVSE manufacturing and scalability will likely outpace electrical utility capacity by the end of 2023.
2. Infrastructure and grid are insufficient.
3. We are in a building boom of demand for charging infrastructure (EVs) without the same priority and investment going into both the electrical grid and the associated charging infrastructure.
Quick Take Analysis
EVX and the Think Tank recognize that while the need to implement charging infrastructure across all transportation sectors is important, it may not be feasible or practical to tackle all sectors at once. However, based on the interdependencies across Core Research Areas, (e.g., Human Resources and Cyber Security) EVX strongly recommends that a concurrent approach be taken to address all six disciplines.
For charging infrastructure, EVX recommends focusing on targeted initiatives that can have the greatest impact and demonstrate tangible success. This approach would provide proof of concept and help achieve the necessary infrastructure for electrification.

To prioritize these initiatives, EVX suggests that the first steps should be to focus on electrifying light and medium duty fleets, mass transit systems, and interstate corridors. This is because these areas have high potential for electrification, as they typically have set routes and predictable schedules that can be more easily accommodated by charging infrastructure.

Overall, EVX and the Think Tank recognize the importance of taking a practical and targeted approach to electrification, with a focus on specific areas that have the greatest potential for success. By prioritizing initiatives in these areas, they hope to achieve tangible progress and build momentum for broader electrification efforts in the future.

Survey Statement
There are sufficient measures to adequately support and maintain charging-station infrastructure.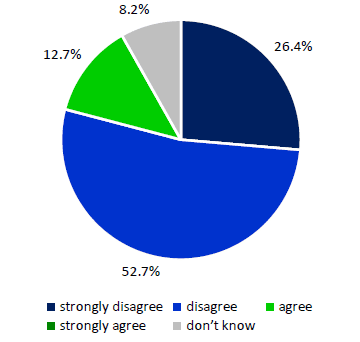 Select Survey Comments
1. Workforce development and the supply chain are critical barriers for reliability.
2. More than half of public charging is in varying state of disrepair.
3. Many utilities do not have well defined roles or longer-term programs; many incentives programs don't have uptime requirements for publicly funded chargers; most states do not have Low Carbon Fuel Standards, which is a critical market-based incentive; many states lack progressive building codes to facilitate infrastructure build out.
4. Manufacturers are still struggling to settle on a standard of charging, as there are at least three major styles of plug and demand charging architectures present in the marketplace. If you can't even get the electricity into the EV you have already lost.

Quick Take Analysis
Each failed charging experience is a social media event. Even if we get the chargers installed, there is a vacuum of responsibility, resources, and recoverability for maintaining and servicing the 500,000 targeted chargers by 2030 and more than 1 million units by 2040. Highly specialized technicians that understand software, communication, security, and safety will be required to keep this huge, distributed asset base operating 24/7/365. Currently, there seems to be no consensus on a national plan to provide the business framework, standards, and facilities to ramp up this capability. Entrepreneurs are filling the void, risking uneven results. We recommend the acceleration of public / private partnerships and vocational programs to rationalize the supply and demand of resources.

Survey Statement
There is clear consensus on the role of Electric Distribution Companies / Load Serving Entities.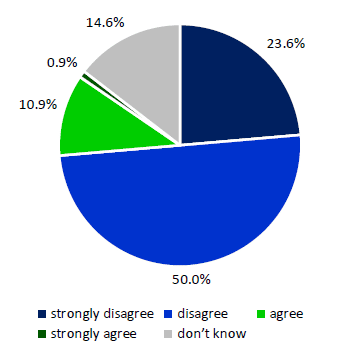 Select Survey Comments
1. While there is certainly a role for utilities to play, the state has not developed a central plan for charge deployment.
2. Many entities fight utility involvement in charging build out; many Public Utility Commissions have failed to institute longer term frameworks that enable multi-year investment from utilities.
3. Average customer doesn't understand the separation of responsibilities.
4. More people need to be educated about this.
Quick Take Analysis
This is a key weakness in the plan – there is no cohesive energy infrastructure in the U.S. – hard stop. It is currently estimated that there are over 200 investor-owned utilities, 10 federal power authorities, over 2000 publicly-owned utilities, about 900 rural electric cooperatives, seven RTOs [Regional Transmission Organizations], 48 state regulatory bodies [e.g., Public Utility Commissions (PUCs)] and many other state and federal agencies, compounded with aging transmission infrastructure and faced with their own clean conversion challenges as well as the need to generate at least 25% more electricity, we are hard pressed to see how the system will produce enough energy and get it to the right places to power planned vehicles. We recommend aggressive development of mini-grid solutions that can operate independently of the legacy system.
Survey Statement
There currently exists a strategy to evolve the existing ICE fueling stations into EV charging stations.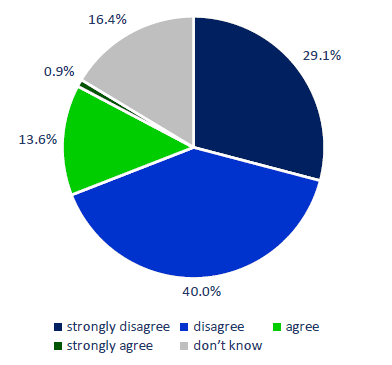 Survey Comments
1. This may be a small part of the strategy, but given home charging, replacing ALL gas stations should not be an objective.
2. ICE fueling models do not work well for EV charging. EV Drivers want cleanliness, convenience, comfort, safety, and the ability to do something while charging.
3. Those who think gas stations are good spots for EV charging are misinformed, as charging even at fast charging usually takes long enough that there should be something else available on site (restaurants, entertainment, shopping, etc.)
4. Most fuel network franchisees now have an electrification strategy but are often very early in the maturity and very limited in the scalability at existing fueling branches (again due to utility capacity at each node).
Quick Take Analysis
The fossil fuel industry needs to have a seat at the table for the EV transition. There are massive land use issues with charging infrastructure, and the existing fuel service structure will be significantly impacted. The EV industry needs to embrace and leverage the existing fueling infrastructure to mutual advantage. However, the fuel service is just the tip of the iceberg, as the petroleum industry will need to reinvent itself as electricity becomes the primary energy delivery system. We recommend strong economic incentives for the oil industry to participate in the electrification transformation. For example, shifting the subsidies already earmarked for oil exploration to electrification initiatives.

About EVX Research Surveys + Data Collection
EVX Research gathers key industry information, data, and intelligence concerning the Electric Vehicles, Energy Infrastructure, Policy & the Future of Mobility™. This intelligence will then be used as part of EVX's efforts to analyze trends, issues, challenges, and possible solutions and then provide this to its communities and relevant industries.

EVX and EVX Research will operate and conduct its practices as an independent, unbiased, objective, and agnostic industry resource, with the primary goal of providing realistic, actionable, and practicable business information and educational content.

Copyright 2012-2023 Sitarian Corporation
Authors: Bill Kirwin, Melek Ozturk, Paul Sitar