Why Mobile EV Charging is a Hot Topic in the Electric Vehicle Industry
In March 2023, California announced a new law that will require that 55% of trucks in classes 2b-C would need to be electrified by 2035. Other states are expected to follow this lead. This new law would comprise 75% of trucks in classes 4-8, 40% of tractor-trailer trucks, and go further than current federal requirements. The Biden administration and the Environmental Protection Agency (EPA) approved of California's Advanced Clean Trucks (ACT) Regulation. This is encouraging news for the electric vehicle (EV) industry, and investment in electric fleets and EV charging is increasing very quickly as a result. Fleet electrification in California and across the United States was already moving quickly before this new law came into effect, but the law is helping to move electrification forward even faster. 
Funding for electric trucks and fleets is projected to increase significantly in the near future. The State of Sustainable Fleets, 2023 Market Brief, by Gladstein Neandross & Associates, North America's leading clean transportation and energy consultancy, is one of the premier studies for predictions on fleet electrification in the United States. The brief stated: "Incentive funding is expected to average $32 billion annually for the next four to five years, much of it with an emphasis on building the Zero Emission Vehicle (ZEV) market." EVinfo.net agrees with this statement.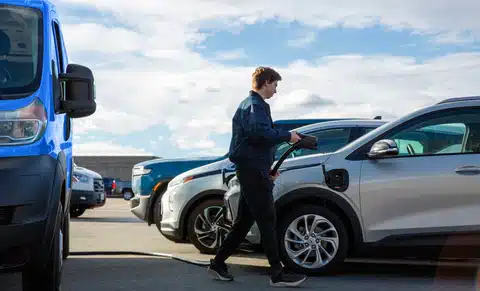 Across the U.S., the majority of fleet managers are recognizing the multiple benefits of electrifying their fleets. On average, electricity as a fuel is currently 3 to 5 times less expensive than diesel. In addition to that, the cost of electricity is far less volatile than gasoline, with gas prices being affected by global events and actions by foreign governments. According to a 2023 survey by McKinsey, 50% of fleet managers plan to fully decarbonize their fleets by 2027.
Installing EV charging is very challenging for fleet managers
Installing EV charging for a fleet can be very challenging. There are many worries and concerns that fleet managers currently face when deciding to electrify their fleet. The high cost of vehicles and EV charging infrastructure is a definite factor. Another worry is the fast pace of advancements in technology. Many are concerned about investing now in charging stations, when it's possible new innovations could disrupt the market again soon and make their equipment obsolete. Still another concern is the sometimes costly, complex and lengthy electric infrastructure permitting process required by local authorities. If the business moves locations, all of the installed charging stations would need to be moved as well, causing a huge problem. EV charging for public, government, and business use is currently being built out across the country, and many areas don't currently have sufficient coverage. This is another concern for fleet managers with EVs that go on long-haul trips. Determining where the EVs will charge on these long trips is a significant current challenge. 
Mobile EV charging solves lots of problems for fleet managers
Nearly all of these concerns can be alleviated by mobile EV charging. Mobile EV charging needs no permitting, installation, and obsolescence is not a concern. Setup can be done in a matter of hours, instead of weeks or months. Another benefit of mobile EV charging is the ability to handle charging on an emergency basis, as a part of roadside assistance. Mobile EV charging is growing at an exponential rate, due to the very fast conversion of fleets to electric currently going on across the country. Fixed EV charging installations simply can't keep up with the demand. Evidence from a March 2023 study by EVinfo.net proves that mobile EV charging is one of the topics that EV professionals are most interested in at the current time.
EV Expert Jackson Haskell speaks about mobile EV charging for Guardian Fueling Technologies
EVinfo.net consulted with EV Expert Jackson Haskell, Director, EV Infrastructure at Guardian Fueling Technologies for his expert opinion on mobile EV charging. Haskell said: "Mobile EV Charging solutions including containerized batteries will play a critical role in rapid electrification for Guardian's Fleet and Retail Gas customer base who are seeking short and medium-term solutions. The delay in new 480V utility service and the supporting infrastructure (switchgear and transformers) can delay implementation of charging and other energy assets up to 2 years, so mobile and grid-buffered solutions allow for a much shorter deployment time to meet ESG and electrification goals. In addition, mobile assets open up additional ownership models, so that ROI can be realized earlier, and equipment has a longer operational life, possibly at multiple properties."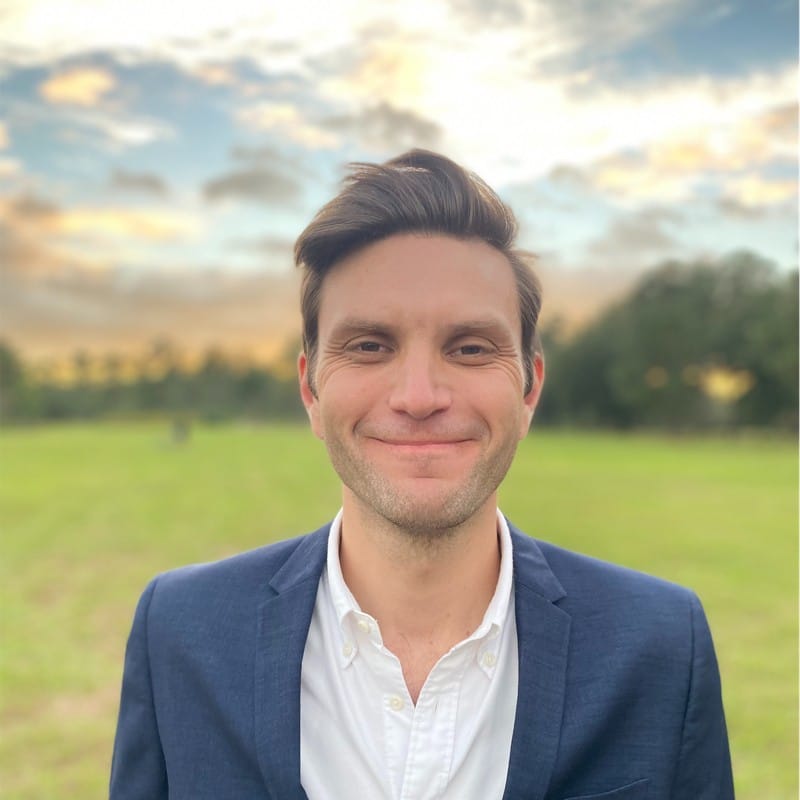 SparkCharge specializes in mobile EV charging
Located in Somerville, Massachusetts, SparkCharge was started up in 2017 by Founder/CEO Joshua Aviv. The company states on their website, "SparkCharge is committed to changing the way the world charges electric vehicles, powering the shift through innovative mobile EV charging stations and managed solutions for all partners." SparkCharge has received significant attention in the EV community lately, as a leader in mobile EV charging.
Joshua Aviv, SparkCharge Founder & CEO said: "Our charging-as-a-service offerings are tailor-made for businesses that want to make the transition or accommodate EVs without the barriers from traditional infrastructure. With us not being tied to the grid, SparkCharge enables EV drivers, companies, and cities in making the shift to a greener future by delivering convenient access to charging and turnkey solutions." Aviv and SparkCharge have won many awards for their innovations, most recently Boston Globe's Tech Power Players 50.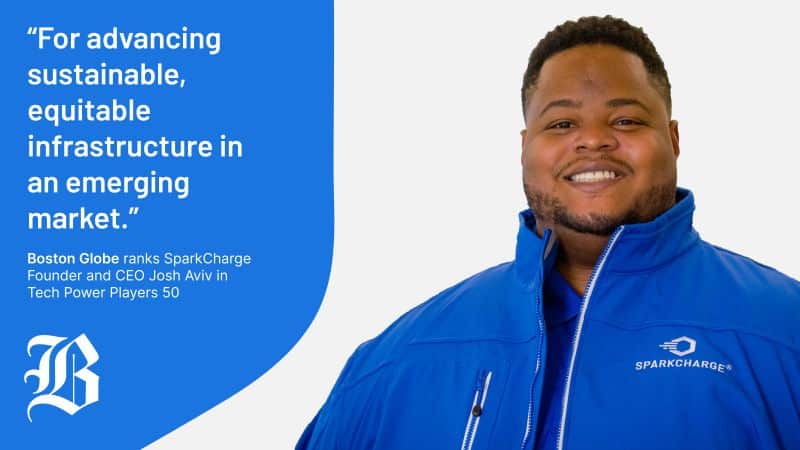 SparkCharge offers 99.9% guaranteed EV charging readiness and more
For charging infrastructure, SparkCharge offers a guaranteed uptime of 99.9%. The charging management software package by SparkCharge allows fleet managers to manage and monitor charging from anywhere. A low and predictable cost is offered for its Charging-As-a-Service (CaaS) offering. A custom rate is offered by bundling OpEx and CapEx. This allows long-term forecasting and management of costs by fleet managers.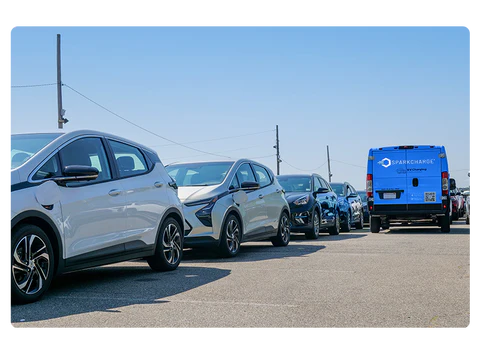 The Roadie V3 and The Roadie Portable by SparkCharge
The Roadie V3 EV charger outputs up to 100 kW. Up to 70 kWh of energy is stored in the batteries. This combination delivers as much range as possible.
The Roadie Portable is modular, customizable and portable. It offers an output current of 40 ADC, output voltage of 150-500 VDC, and maximum power of 20 kW.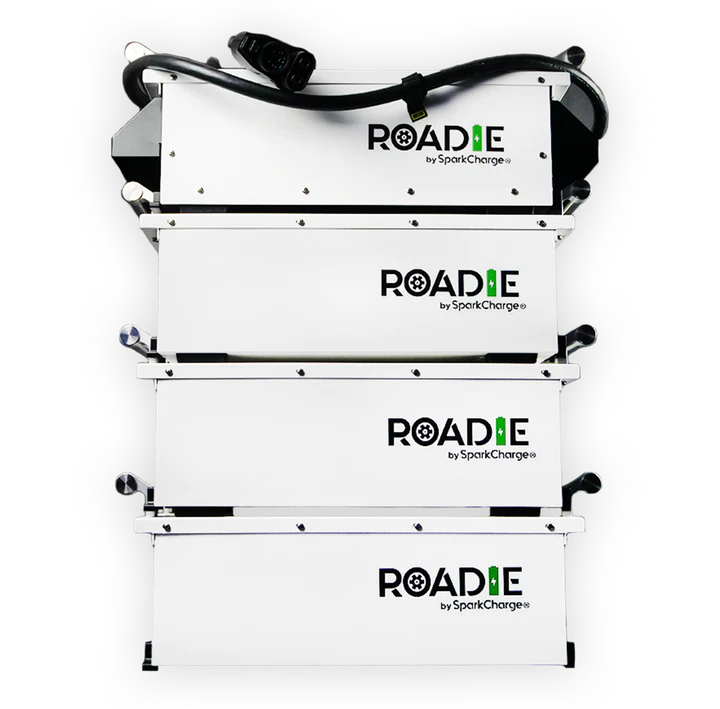 Along with these two portable chargers, SparkCharge offers turnkey EV charging, charge management software (CMS), and Out of Charge (OOC) service when an EV battery is low or out of range. With the SparkCharge Mobile app, fleet owners and managers have instant access to their fleet's charging information from anywhere.
Blink EV charging, one of the largest EV charging companies, offers a mobile EV charging solution
Blink EV charging is one of the largest and most well-known EV charging companies in the United States. The company's 2023 total revenues in the first quarter increased to $21.7 million, a gain of 121% . As of 2022, the company has installed over 30,000 EV charging ports in 18 countries. It was founded in 2009.
Blink Charging's Portable Level 2 Generator-Powered EV Charger is a free-standing unit that supports 240-volt AC charging. The unit is easily stored in a truck for mobile EV charging service. Charging power of up to 30 amps is provided by the unit. Wi-Fi networking is available, and the unit can also function as a non-networked charger if needed. Depending on the vehicle, the charger can provide up to one mile of charge per minute of charging time. The company recognized the great value in roadside assistance mobile EV charging, and released the unit as a result. This charger is a great solution for insurance companies, fleets, as well as companies providing roadside assistance to the public.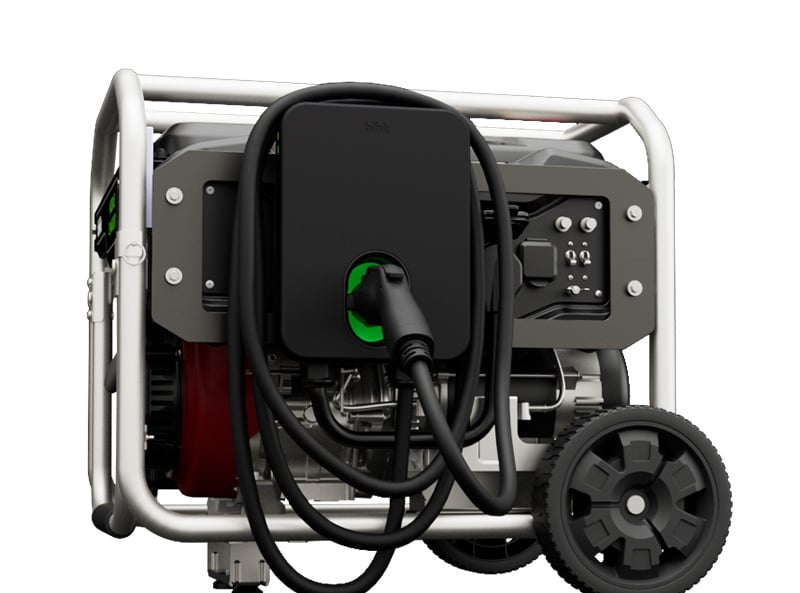 The Xos Hub mobile charging solution by Xos Trucks
Xos is an electric truck company, offering medium and heavy-duty electric trucks. The company was founded in 2016, and is located in Los Angeles, CA. Xos Energy Solutions is the company's suite of charging solutions. Among these turnkey solutions is a subscription to Xosphere, for monitoring charging systems and infrastructure. Another is the Xos Hub, which is capable of charging up to 5 vehicles at a time. It offers a large (390kWh) intelligent battery, 40kW charge rate per chargehead, and 5 CCS1 chargeheads. LTE and Wi-Fi connectivity is included.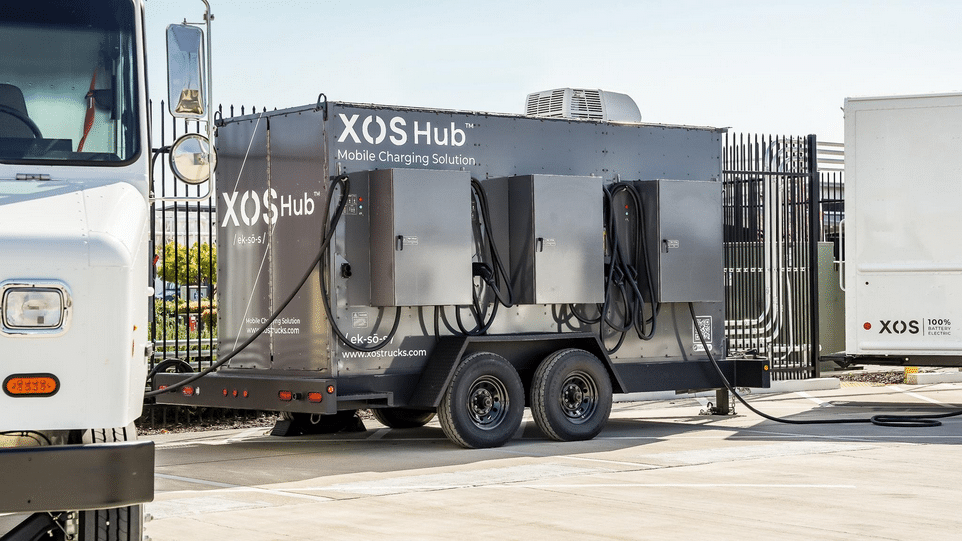 Charge buses, cars, trucks, vans and more at depots and remote locations with Lightning Mobile
Lightning eMotors offers premium commercial electric vehicles, and is based in Loveland, Colorado. The company was founded in 2008. Lightning Mobile is the company's mobile charging solution. Lightning mobile can serve as charging for a fleet at a depot, or be deployed to locations where emergency roadside charging is required. A range of configurations are available. 105 kWh to 420 kWh is the capacity range for energy storage. The number of output charging cables can range from 1-5.

EV Power Pods, a unique solution for mobile EV charging
Barry Rowton of EV Power Pods was interviewed by EVinfo.net in April  2022. Rowton is the principal engineer for EV Power Pods, which designs and manufactures green, mobile, grid-independent, completely self-contained DC fast chargers for all EVs.  The company offers a truck-mounted pod designed for highly mobile fleets. Their mobile charging pod is mounted on a trailer for easy towing. The company's deployable charging pod is designed for longer deployments, such as fleet depots. The company's recent demonstration at the Advanced Clean Transportation (ACT Expo) event in Anaheim CA was a very popular attraction for attendees. ACT Expo is organized by Gladstein, Neandross & Associates (GNA), the nation's leading clean transportation and energy consulting firm, and had a record turnout and more exhibitors than ever before for the 2023 event.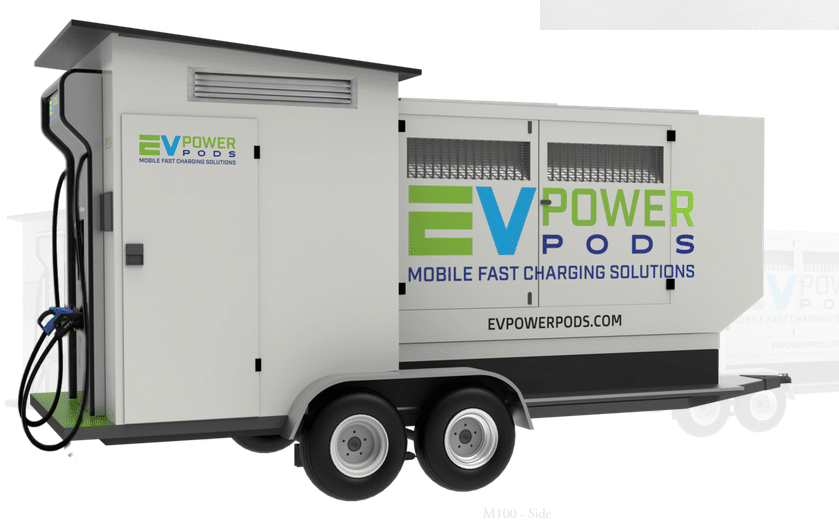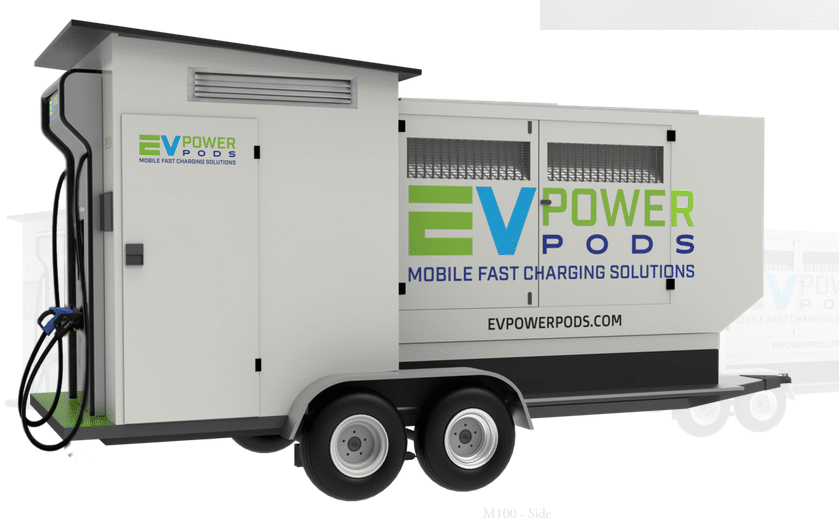 Rowton said: "We have found out that there are many places where the grid just does not have the power available. The wait period to upgrade the grid in some locations and install chargers is now approaching 24 months! EV Power Pods current lead times are six months. We can support the scheduling of receiving EV fleet vehicles well before hard infrastructure can be installed."
Environmental Stewardship by EV Power Pods
One of the core values of EV Power Pods is environmental stewardship. The company believes strongly in protecting the natural environment. One of the core reasons the company was founded was to adopt sustainable practices for enhancing resilience of the ecosystem. Providing EV charging for under-served residents of rural areas is another goal of the company. Their mobile EV charging solutions are perfect for this purpose.
EVinfo.net thanks all of these companies and leaders for moving mobile EV charging forward. In our opinion, it's one of the most important and exciting topics in our industry today.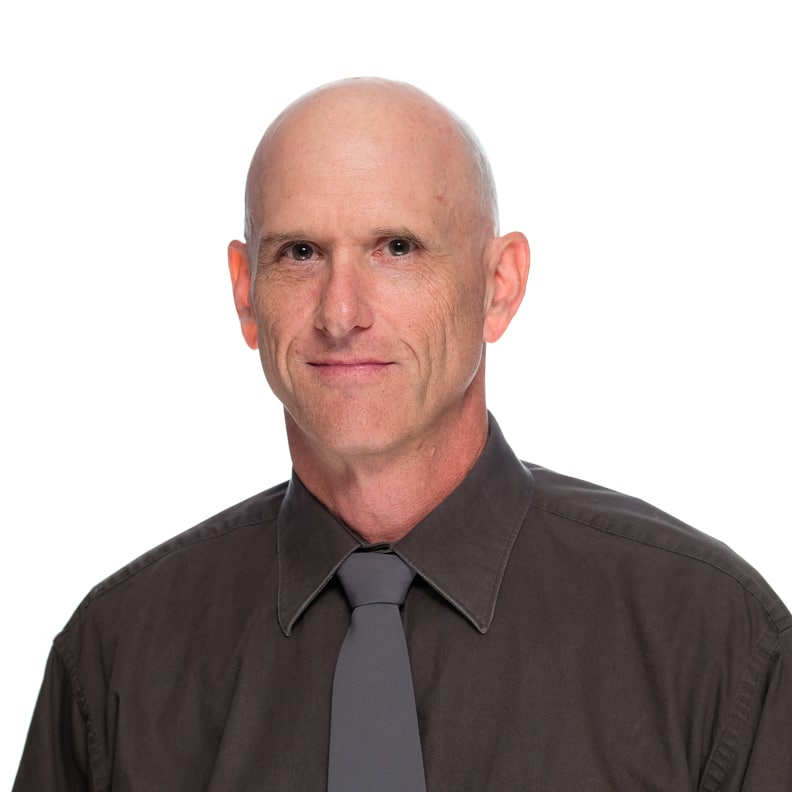 Electric Vehicle (EV), Marketing & Sustainability Consultant, Publisher EVinfo.net, Freelance Writer