EV Charging 101 Virtual Conference, June 29–30, 2023
Register today! Don't miss this important event. EV Charging 101 is the must-attend virtual event for emerging EV Charging stakeholders to:
HARNESS incentives for financial, qualification, creation, installation & management of EV Charging stations
ADVANCE the goal of a clean transportation system
BUILD professional connections in an emerging multi-billion dollar industry
UTILIZE EV Charging stations as added value and profitable assets
IMPLEMENT strategic plans for site conversion
SEE what's driving success at other companies that can inspire innovation at your own pace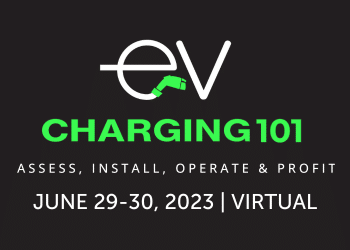 Expert Speakers Include
Zach Henkin
Director of EV – Center for Sustainable Energy
Bernie Kotlier
Co-Chair – EVITP
Noam Hameiri
Chief Strategy Officer — DEELS Properties
Raina Shoemaker
Co-Owner — Shoemaker's Travel Center
Andrew Linowes, CEM
VIce President – Jones Lang Lasalle
Sarah MacLean
Associate Principal — WB Engineers + Consultants
Bryan Thomas
VIce President – Jones Lang Lasalle
Windell Mollenido
VP of Marketing & Technology
Deana Haynes
Director – ChargePoint
John W. Nolan, MS, CAPP
Director – Harvard
Who Should Attend
If you're a current or emerging EV Charging stakeholder in one of the following industries, this event is a can't-miss opportunity!
Architecture & Design (including MEP)
City and Urban Planning
City/County Transportation (School, First Responder, Public)
Commercial Real Estate
Commercial Retail and Mall Infrastructure
Construction Services
Consulting
Educational Institutions and Universities
Entertainment (Venue Operations & Development)
Engineering Services
Fuel Retail & Gas Stations
Government and Municipal Authorities
Hospitality: Hotels, Restaurants, Tourism, Entertainment
Hotel and Tourism Venue Operators
Installers and Field Service Repair Companies
Municipal Utilities and Energy Supply Companies
Parking Lot Owners and Operators
Public Transport Authorities
Public and Private Fleet
REITs
Renewable Energy & System Integration
Single & Multi-Family Residential Real Estate
Taxi Services and Car Share
Utility (Public and Private)
Contact
MVP Media
1501 India St. Suite 103-60
San Diego, CA 92101
Phone: 888-409-4418